The gathering begins with a seed.
Just a dozen or so people enter the woods like explorers, searching out campsites, kitchen locations and mountain springs, in preparation for the horde of yearly revelers following behind them.
And in the coming days and weeks, thousands of people will travel from all over the nation to the Bull Mountain area of the Chattahoochee-Oconee National Forest, a quick 10-minute drive outside of Dahlonega, to live, love, pray, heal, serve and witness the creation of a community at the Rainbow Family National Gathering.
Each year since 1972 the Rainbow Family of Living Light – a shifting, leaderless, collective group – has come together in a different national forest to grow a community and to pray for world peace. The event coincides with the Fourth of July holiday and climaxes on July 4 with a day-long spiritual gathering in the main meadow.
To get a better picture of this unique phenomenon, reporters from the Forsyth County News spent a day at the gathering, talking to Rainbow Family Members, taking photos and video of them, and learning about what pushes them to gather. 
'Welcome home'
At 10:08 a.m. Monday, we parked along forest service road 28-1. Two truckloads of forestry service members were out early to do a routine safety inspection of the surrounding area and attend a "town hall meeting" with Rainbow Family members.
Before making the trip up, we had no contact with anyone from the Rainbow Family, so we were hitting the ground cold and had no idea what kind of reception we could expect from the gathered members.
But almost immediately, our group stumbled upon Ryan Smith, a Rainbow Family Member affectionately referred to as "The Professor." Smith volunteered with no hesitation to be our guide for the day, explaining the purpose of the gathering and pointing out landmarks as we walked along the trail.
"For me, the most important thing is that it's a gathering, people are going somewhere and gathering," he said, hopping a small puddle on the dirt trail. "We go to a different place and get all this different knowledge about the plants, the forest ecology that lives there, and different community interactions."
Smith wore a black backpack, a brown brimmed hat, and a worn tan t-shirt with a large button that reads "Consent = Less than yes is a no." As he strolled down the path, Smith said that the gathering has no leader and is instead run by a collection of individuals he calls the "consensus process" who determine practical things like how donations are used, what ethical guidelines are upheld and where future gatherings will be held. 
"It's both a beautiful and frustrating process," he said with a laugh.
He said even though the Rainbow Family is ultimately a gathering of equals, deference and respect is still given to Rainbow Family elders, called "Earlies," who have been coming to gatherings for decades. "Earlies" are often sought out for counsel on how to handle problems.
"We can add that wisdom to our own and make better decisions," Smith said.  
From the front gate, Smith led us down the meandering trail, past lonely tents and sprawling tarp-covered log structures scattered throughout the woods and side trails.
He said that each camp has a name, often based on what the camp does for the gathering, like cooking food, providing workshops on a variety of different topics, crafting different items like leather bags, or playing acoustic music at all hours of the day or night.
At every turn we are greeted warmly. Some people ask us who we are reporting for. Others tell us we are loved. Still more tell us, "Welcome home."
'Go in peace'
At the Stich and Witch Camp, which specializes in sewing and herbs, we meet a leather crafter named Jonah who states he has been coming to gatherings for 10 years. Jonah said he originally started the camp as a way to help give people a skill they could take with them after the gathering and become more self-reliant in their normal lives.
"We noticed that a lot of these kitchens were feeding people but not doing much to fill in that gap," he said. 
This idea of self-reliance and "transfer of knowledge" isn't uncommon in the camp. Jonah explained that many people see the gathering as a way to learn a new skill from someone who knows more, by simply following them around and watching them.
After being fed brownies cooked in a Dutch oven, we are sent on our way with more "welcome homes."
At the next camp, camp Fat Kids, named for its yearly ritual of making and serving handmade doughnuts, Smith stops to show us the camp's water filtration system, a complicated system of spring-fed hoses, filters leading in and out of a monster-sized container of fresh drinking water.     
"There's a lot to learn in different sites," Smith said, "and they pose different challenges and you have to get a different education to handle it."
Smith said that despite having thousands gathering, living and disposing of waste in such close quarters, the gathering manages to keep members healthy by adhering to a strict hygiene regimen around water sources and food.
Gatherings are often accused of causing damage to the ecosystem they inhabit, but in Smith's estimation this damage is surface level at worst. By using fallen trees and tree limbs for firewood, he said they end up reducing the risk of forest fires. By safely burying food compost and human waste, they naturally "reintroduce carbon to the soil and provide nutrients to the forest."
"Most of the damage we get accused of is aesthetic damage where we are killing some smaller section of the plants. But typically, by a year or two later you can't even tell," he said.
At the camp kitchen, a man named Dok shows me the loaves of bread he is making for the afternoon, each full of herbs, olives, butter and other goodies.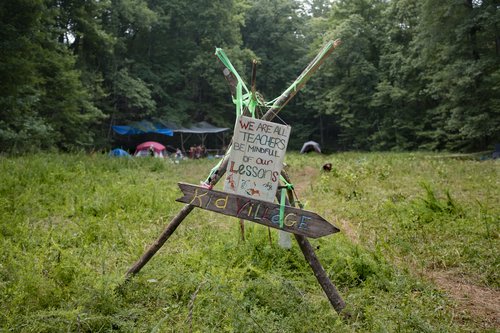 After Camp Fat Kids, we climb down into a hollow to camp Instant Soup where we are fed fried red potatoes. A woman named Elizabeth tells us the camp was started 22 years ago to provide a variety of vegan soups for anyone that might need them at all hours of the day or night.
After once again being fed and given water at Instant Soup, we make our way across a stream and out into an open meadow that in the coming days will be transformed into the Kid Village, equipped with swings and playground equipment for camp youngsters.
In the meadow, a shirtless middle-aged man who seems to be overseeing the building operations at Kid Village reminds us to ask before we photograph and explains that area is meant to be a sanctuary for families of the gathering where Rainbow youngsters can play, eat and be away from any R-rated reveling that might be going on elsewhere in the camp.
"We keep it in a family environment," he said. "We try not to allow drinking around here. There's no smoking around here. It's basically for the kids to have a safe place, and their parents, while they are gathering here."
The man leaves us with a blessing. "Go in peace," he says.
'It's a detox'
We round a bend in the trail, cross another small trail and reach the encampment of the Katua Regional Rainbow Family gathering.
There we met Reed, a Cumming local, who said that he has come to two national gatherings and called them "some of the best weeks of his life."
Reed said that after experiencing the National Rainbow Gatherings in the 1990s and 2000s, he raised his son going to the regional gatherings.
"It's a detox from all the stress in the real world," Reed said. "We call the woods our church because God built this place. Man built something else out of polyvinyl and bricks … We come to the woods to hold hands and worship in a very natural way."
Before we turn back to make the long walk to our car, Reed says what keeps him coming back all these years is a feeling of release and acceptance that can only be found at the gatherings. A feeling that comes from listening to other people and being heard completely.
"Bring your friends back! Anyone with a belly button is welcome," he said, lifting up his shirt with a grin.