Barbara Wallace was featured as the spotlight artist during the ninth annual "Art by the Young at Heart" art show held at the Margie Weaver Senior Center Dec. 2.
"When she paints one painting, the demand is so high she sometimes has to paint three or more copies for gifts or to sell to others," said art instructor Carole Kinzie.
Wallace has lived in Dawson County for 56 years and spent over 35 years working for Dawson County Schools as a secretary. She is an avid hiker, sings in her church choir and volunteers to visit homebound seniors a few days a week.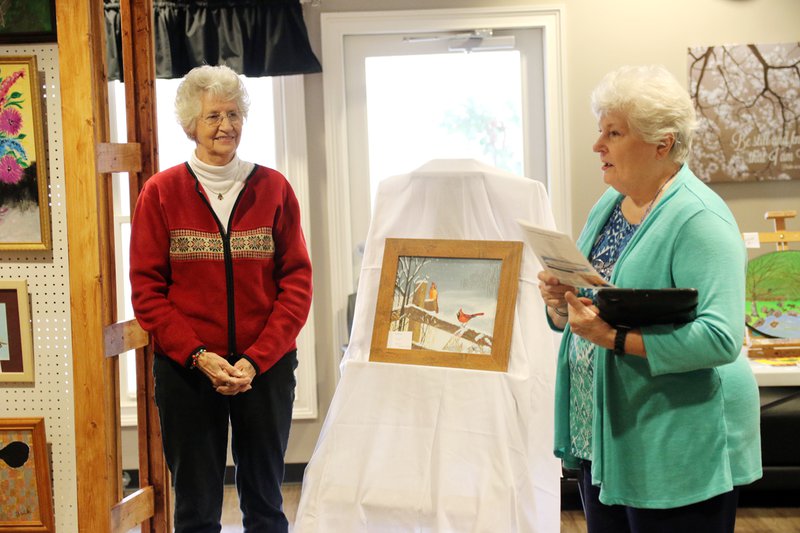 "When I first started, I'd never held a brush," said Wallace as she addressed the audience.
She began taking Kinzie's classes seven years ago and Kinzie was proud of her growth as an artist in that time.
The class began with acrylic paints but has now expanded into more mediums. Kinzie said she is proud of her students for trying new mediums.
"They have upped their game this year," said Kinzie, who encouraged them to branch out into watercolor and oils.
Members of her class include: Barbara Wallace, Betty Losh, Ernest McGill, Evelyn Kosh, Hanne Gear, Joann Johnston, Judy Brandon, Margaret Hopper, Mari Lou Perry, Robert Walker and Sandra Davenport. They were all recognized and applauded during the show.
"Every one of these people standing here are artists," said a passionate Kinzie.
Pieces were on sale Dec. 2, with some of the proceeds from the sales going towards the senior center so they can fund supplies for the art class.

The art show is in its ninth year, but this was the second year that the art show was combined with the annual Bazaar, where seniors displayed and sold handmade craft items.
The artworks are currently on display throughout the month of December. All are welcome to come to the Margie Weaver Senior Center to see the art Kinzie's talented students created. The center is located at 201 Recreation Road.