From children as young as nine to adults in their 80s, an eclectic group of individuals sat together at Panera Bread Saturday, Oct. 6, smiling to each other as they communicated with nothing but their hands.
It was the first gathering for the newly formed group called American Sign Language North Georgia, where signers of all ages and abilities gathered together to form friendships, learn new signs and practice their signing skills among likeminded people.
The club, founded by Dawsonville resident Helen Holloway, began after she enrolled in Michael Leitson's ASL 1 course at the University of North Georgia.
Holloway had taken an interest in sign language when she studied early child care and education in her native England. She learned that babies as young as six months old can learn sign language, so she began signing with her son William when he was just an infant. As he grew older and began talking, Holloway fell out of touch with signing but wanted to reconnect with her passion.
"I find it really interesting," Holloway said. "I'm terrible trying to learn other languages. Sign language seems to be something that is a little easier for me."
After taking Leitson's class, she would come home and teach William everything she had learned as a way to practice, but she was eager to join a local group to practice with more people.
When she went to find a group near her, she was surprised to find that there were none.
"I just figured that for me to practice it would be good to find a group. When I looked online I couldn't find one so I figured 'well if I can't find one I'll just create one,'" she said.
Holloway saw the club as an opportunity for the community to get involved for free and without having to attend weekly class.
"I had the opportunity to go to (Leitson's) class once a week and to study but some people might not have the time or resources to be able to go but they might be interested in just learning for themselves or they might have a friend or family member they might want to communicate with," Holloway said.
When Holloway approached Leitson and her classmates about starting a sign language club in north Georgia, they were immediately on board.
"I used to live in the apartments right behind Home Depot – Dawson Forest – and sometimes I felt isolated myself," Leitson said. "I didn't feel like there was anyone else who knew sign language."
Leitson has taught sign language in Gainesville and Cumming for the past year, but it's been a language he's known since birth having had deaf paternal grandparents and both parents studying and teaching sign language.
 "At first I seemed like a normal baby but after a while (my parents) noticed I wouldn't respond at distances," Leitson said. "They had my hearing checked and I had hearing loss."
Throughout his life, Leitson learned sign language to communicate with his family and overcome his hearing loss, but in the past few years he has become more aware of the deaf community and wanted to find a way to help.
He sees ASL North Georgia as a way to bring two communities - the hearing world and the deaf world - together.
"It bridges the community. It brings out the community…to learn sign language, because that way deaf people who just happen to live here by themselves know that there other people trying to learn to communicate with them," Leitson said.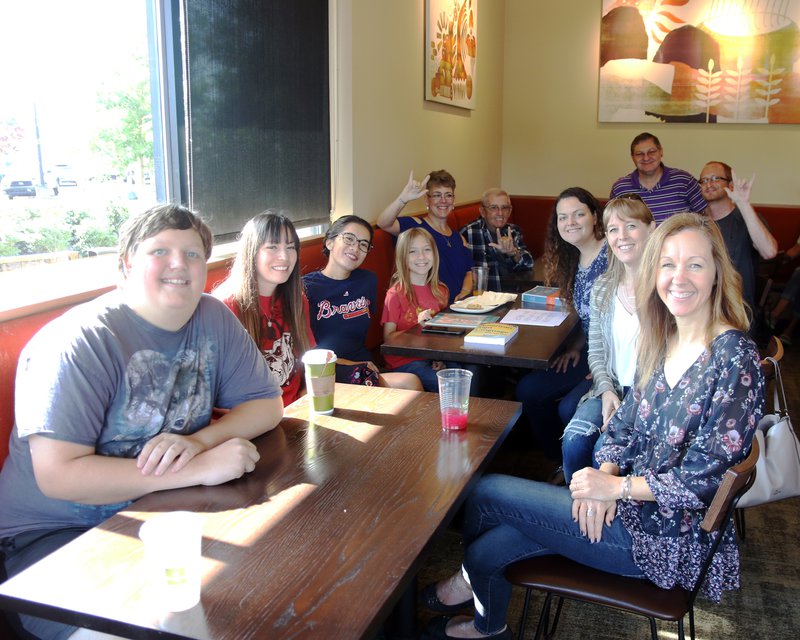 While there are more sign language groups closer to Atlanta, Holloway and Leitson were surprised that the closest meet ups posted on deafcoffee.com, a prominent website used to post sign language meetups, were located in Valdosta, Oglethorpe and Kennesaw, which still weren't close enough to suit the needs of the north Georgia community.
"There's not a lot of meet ups like this where I live yet in the Gainesville area," said Gainesville native Wendy Goldman. "This is an opportunity for me to do everything:  meet up, make friends, learn, get the experience and find a way to make a difference in their world."
Goldman, who has been teaching herself sign language for 30 years, jumped on the opportunity to join ASL North Georgia for their first meeting and plans to attend each month.
"I've fallen in love with the culture and want to become a bridge from the hearing world to the deaf world," said Goldman. "With the deaf culture, the world is closed off to the deaf and so when there is an opportunity to meet new friends, people that speak their own language, it's a big deal."
Goldman has been inspired to help bridge the deaf world to the hearing world after reading Helen Keller's story in the fourth grade. She wants to be an interpreter and volunteers to sign during worship at her church.
"My heart is saying I want to be a bridge between hearing parents and deaf children but wherever God sends me I'll go. I feel like it's a spiritual calling," Goldman said.
For Goldman, being part of ASL North Georgia was everything she thought it would be: a place to make new friends and continue her passion to help others.
"Where do you find a group of strangers from ages nine to 80? Where do you find a group of strangers that can come together and have something in common," she said. "I didn't even have a chance to say my name and I had 12 friends just like that. It's beautiful."
Holloway said that the group is even gaining momentum and inspiring local students at Robinson Elementary School as her son has begun teaching his friends sign language.
"During lunch when the music comes on we have to be quiet so I sign to my friends so they can understand me so we can chat while the music's on," William Holloway said.  
The fourth grader is teaching six of his friends that sit at his table some of his favorite signs, including the signs for pineapple, popcorn, orange and blue.
"It's helpful if your parents are asleep and you don't want to wake them," he said, giggling.
Brittany Croft, a kindergarten paraprofessional at RES, is in the lunchroom during William's lunch and practices sign language with him every day as well.
"It's awesome that we can still talk," said Croft as she smiled at William. 
Croft is also one of Leitson's students who started studying sign language at the same time as Holloway.
"I like being able to talk to people in a different way," Croft said. "I think everybody should come out and try to learn something."

Anyone who is interested in learning sign language, including those who have never signed before, are welcome and encouraged to join the group, Leitson said.
"We'll be happy to teach them," Leitson said. "All skill levels and all abilities are welcome."
ASL North Georgia plans to meet at Panera Bread off Ga. 400 from 10 a.m. to 12 p.m. the first Saturday of every month, but depending on interest might hold more frequent meetups.
The meetups are now listed on deafcoffee.com and updates on meet up times can be found on the ASL North Georgia Facebook group.
"This is just hopefully the first of many," Holloway said.