When Suzanne Franklin got a phone call in early spring 2018 from a production crew working for Clint Eastwood's upcoming film, she didn't know what to think.
"At first I was in shock. I was like 'how do I know you're really from the Clint Eastwood movie production?' You know, you get scammed," Franklin said.
The man identified himself as Luke Castleberry. He said the production team wanted to purchase hundreds of Franklin's unique daylilies to be used in Eastwood's 2018 film "The Mule."
After a quick Google search, Franklin, who owns Jungle Paradise Daylilies in Dawsonville, realized that she was actually in talks with Eastwood's team.
Soon her flowers would be seen by millions of movie goers once the film hit theaters in December 2018.
"People call me 'The Flower Lady' in Dawsonville because I've been here so long," Franklin said. "And now they're going 'oh you're the one that has the lilies in the Clint Eastwood movie.'"
Franklin, who has owned and operated Jungle Paradise for more than 20 years, specializes in hybridizing daylilies, which just happened to be what the production crew was looking for.
"I had an abundance of daylilies that I've been crossing," Franklin said. "They wanted a hybridizer and I've been hybridizing for 33 years."
"The Mule" centers on Eastwood's character Earl Sharp, a horticulturist specializing in hybrid daylilies who falls on hard financial times and becomes a drug mule for the Sinaloa Cartel.
And in order to find unique, one-of-a-kind daylilies for the production, they turned to Franklin's gardens.
"Ninety percent of everything I have out here is things I've crossed so that means you will never see them anywhere else in the world," Franklin said. "They were born here in Jungle Paradise."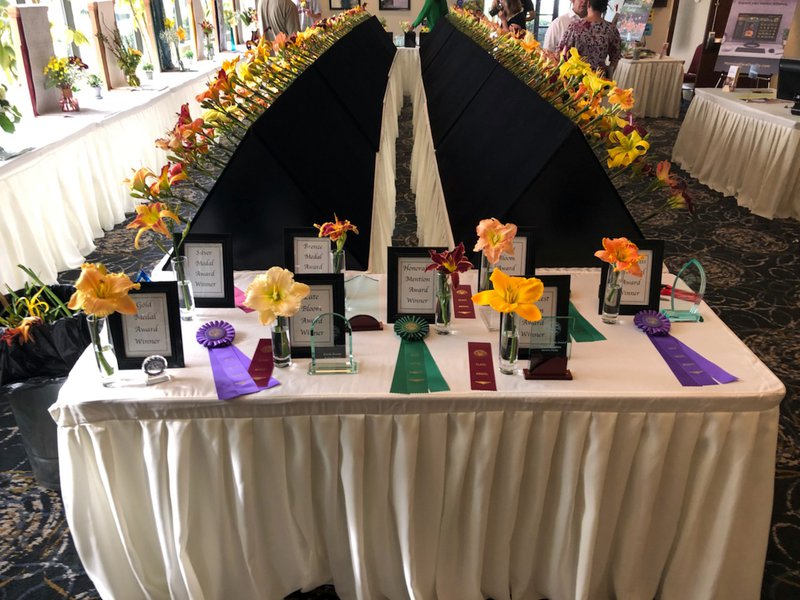 In May 2018, Franklin welcomed the crew to her paradise resort where they filled up two large trucks with more than 750 clumps of her hybrid flowers, many of which were labeled as exotic.
To add to the excitement, some of the flowers used in the film were new hybrid creations that Franklin had not seen before. Franklin said it takes two or three years before she sees the results of her cross pollination process.
"When (the flowers) start opening I don't even have to set an alarm or anything," Franklin said. "As soon as the light comes in I'm like 'yes!' and I run outside, because it takes me two to three years to see what I've crossed. So I mean, talk about exciting."
Franklin has thousands of daylily hybrids spread across her acreage, leaving the production team with plenty of options to plant in one of the film's central filming locations in Augusta.
Franklin said the film crew didn't tell her at first what the movie was about.
"I went 'oh my gosh! Why would they put my flowers, my beautiful flowers in a movie called 'The Mule'? That's awful," Franklin said, laughing.
Though not a fan of R-rated films, Franklin made her way to the theater once "The Mule" came out to see her flowers represented on the big screen.
She saw one of her rare red form exotic daylilies in Eastwood's hands in one scene and has decided to name that unique flower "Clint Eastwood," which can be purchased from Jungle Paradise.
She was also impressed by the craftsmanship and diligence that went into the floral arrangements in a funeral scene because of how tricky working with daylilies can be.
"They had to have a lot of people to do this at one time because a daylily is what it says, one day. Some of them start closing up just when it gets dark. Some of them stay up until 11 o'clock at night open, but you don't know which ones it is," Franklin said. "Some of them open up earlier in the morning. Some of them open up later in the morning. There are so many characteristics. They had to work like nonstop, these people, to make a whole entire funeral out of daylilies."
Since the spring of 2018 when members of the production crew purchased two truckloads of Franklin's exotic daylilies, she says her life at Jungle Paradise has been a whirlwind.
After receiving a check that "was half as much as a small house," Franklin went to work to improve the garden resort experience for the guests of Jungle Paradise.
"I felt like the Lord said to make this place peaceful and fun and exciting for my people," Franklin said. "In the back of my mind I felt like the Lord always wanted me to make this place that's peaceful and enjoyable."
In order to make touring the gardens and spending a day at Jungle Paradise more enjoyable, Franklin was able to pay for renovations including paving the drive to her home, which doubles as a resort.
Public bathrooms and additional parking were also added, along with a new buggy dubbed the 'Paradise Buggy' to drive guests around the gardens.
The new state-of-the-art buggy comes complete with soft seats, speaker system, radios and little fans to keep  riders comfortable.
In 2018 Franklin also received agritourism signs posted along Hwy. 9 and Ga. 400 near the outlet mall, directing motorists to her business.
"Needless to say I mean there's just been so many other blessings that have just sort of unfolded," Franklin said.
"The Mule" is still playing in theaters.