A local quilting group has recently donated over 40 homemade "cat comfort quilts" to the Dawson County Humane Society in an effort to provide a little extra comfort to cats waiting to be adopted. 
Kim Banta, member of the Dawsonville Heart in Hand Quilt Guild, said that her group is always looking for project ideas and local outlets to donate their finished quilts to. 
"We're a local group in Dawsonville and wanted to support somebody in Dawsonville," Banta said. "We've always liked the Humane Society — it's near and dear to so many of our members' hearts, because a lot of them have pets."
Banta said that the cat comfort quilts are small projects that make a big impact for felines waiting for adoption at the Humane Society. 
"Apparently someone found out that cats who have their comfort quilts are more likely to be adopted than those that don't have one," Banta said. "Also, they keep the comfort quilt with the kitty when it's adopted, so it goes home with the kitty and they can have a little extra comfort going from one place to another." 
The quilts, which measure 20 inches by 28 inches, are washable and practical, and for avid quilters who have large big stashes of fabric already in their homes the small quilts were fun projects, according to Banta.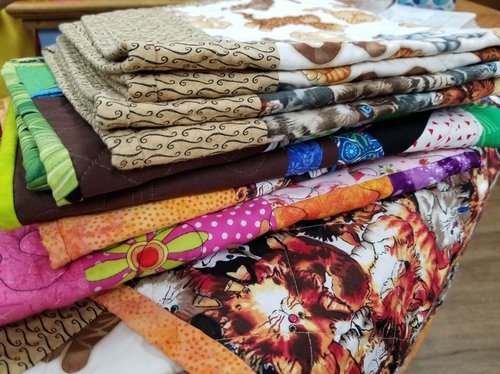 "We're practical women who have talents and a lot of fabric, so we decided to do something with it," Banta said. "There was no limit to any member who wanted to make a 20 by 28 inch quilted mat for the cats." 
Representatives from the group were able to donate 22 cat quilts to the Humane Society on Wednesday, July 29, in addition to the 19 quilts they already donated earlier in July. According to Banta, members will continue to make more of the cat quilts, in addition to whatever other projects they want to work on.
"We have all kinds of projects going on at a time, and we're always wanting to support different local groups with them," Banta said. "So some women might make 10 cat quilts, many don't do any cause they're working on another project, so it's just whatever project you want to make but it all adds up."
The group ranges from about 36 to 45 members that meet once a month to drop off projects and show off what they've made. 
"We haven't been able to meet the last few months due to the virus, but last month we had an open house where we all wore masks and social distanced, and dropped off projects we'd finished," Banta said. "We're not a huge group, but it's a very active group." 
In addition to the cat quilts, the Quilt Guild has several other ongoing projects that support local groups in the community. One of these projects is comfort quilts for victims of domestic abuse. 
"We make quilts for the police officers and the firefighters to keep in their vehicles for when there's a domestic abuse situation," Banta said. "Those are bigger quilts and we wait to see what they say they need, but those are always a big comfort because sometimes all the victim has is their own clothes so this gives them the comfort quilt to keep too." 
Another project the group does is creating gifts each year for the residents of local nursing homes. These gifts have included tissue box covers, placemats and the most recent project of coffee mug covers.  
No matter the organization the Quilt Guild donates to, Banta said the handmade quilts are always appreciated. 
"They all say they appreciate the donations," Banta said. "There's no requirement of what people in the group make, so we're always working on many projects for many causes."