Progress is being made and more is coming on rural broadband issues, Ajit Pai, chairman of the Federal Communications Commission, said while attending a forum in Dahlonega on Friday.
Pai and U.S. Rep. Doug Collins, R-Gainesville, talked May 25 to a packed room of telecommunications industry leaders and local and state elected officials at the University of North Georgia's new convocation center in Dahlonega.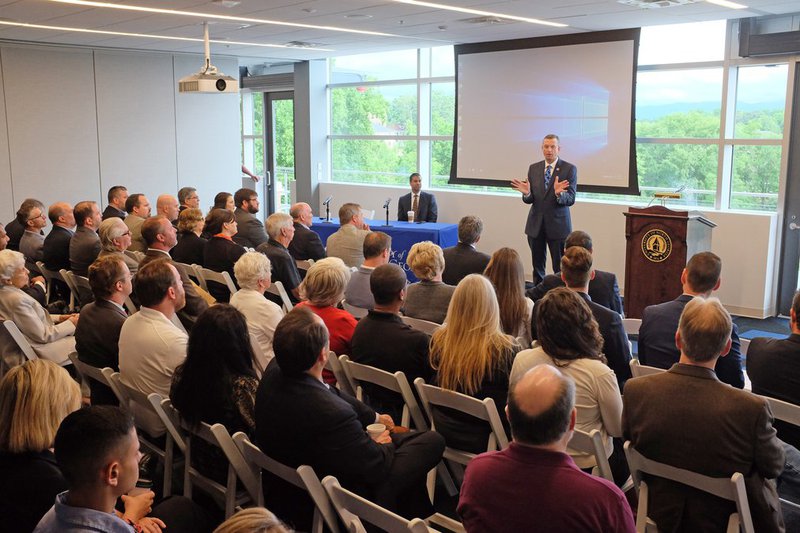 From updates to federal grant funding for telecommunications providers to regulations of internet service providers, Pai told the group of more than 50 people that bipartisan changes are being made to help bring internet access to rural Georgians and rural residents nationwide.
Pai also praised Collins' Gigabit Opportunity Act, which "would be a gamechanger not just for rural areas, like parts of this district, but also for low-income urban areas. It's designed to make sure we target people who are unserved or underserved, and we give them what I call digital opportunity."
Of all the issues facing the FCC, Pai said, including robocalls and net neutrality regulations, access to internet on the part of the 34 million Americans who don't have adequate access is the most important.
Pai, Collins and other speakers discussed internet access, the new, grand infrastructure issue of our time, and said expanding access from metro areas and into rural markets would help bridge the gap in academic and business opportunity facing rural areas.
State lawmakers especially have talked about population losses and economic decline caused by population drain of rural areas' most talented students and residents, who are fleeing decline in favor of more populated areas and better jobs.
"The jobs that we have created have been created mostly in the urban areas, and that's great, but rural Georgia is dying on the vine," said Rep. Terry Rogers, R-Clarkesville, one of Gov. Nathan Deal's floor leaders in the House.
He said the state needs to find new solutions to rural decline and likened the push for rural broadband to rural electrification in the 1940s and 1950s — a movement that created the electric membership corporations serving much of Georgia.
Kevin Woody's business, Woody's Pharmacy, which has a location in Clermont and in the Dahlonega area on Ga. 400, was one of those fruits drying up on the vine.
"When you walk into my pharmacy, nine times out of 10 your doctor has emailed me a prescription," Woody said. "It's been sent electronically, securely."
Because of unreliable, verging on absent, internet service at his business, Woody couldn't get access to those prescriptions — sometimes for 24 hours or more.
He was having to send people to chain pharmacies or tell them to come back tomorrow when the connection might improve, he told the audience on Friday.
With most people paying with credit or debit cards and regulations requiring him to track and report sales of controlled substances, Woody couldn't function without an internet connection — costing him thousands of dollars during outages.
This year, Georgia lawmakers passed a bill that sets the groundwork for rural broadband expansion in the coming years. Blake Doss, a policy analyst for the legislature, said Senate Bill 406, sponsored by Sen. Steve Gooch, R-Dahlonega, will have four main effects on internet service providers and communities:
The bill allows the Georgia Department of Transportation to lay its own fiber optic cable along interstates and to lease the land to companies also interested in laying cable.
SB 406 establishes a "broadband-ready community designation program, which essentially means a city or county has capped its telecommunication fees and streamlined its permitting process for service providers — a major hurdle for private industries trying to comply with multiple layers of regulation.
The bill creates a mapping system similar to the FCC's own system that will allow the state, public and private business to identify areas of need.
Finally, SB 406 put the framework in place for a grant and loan program for companies who need cash in order to expand internet service in rural areas.
A missing piece this year is funding, Doss said, noting that Gooch and his staff wanted to get the framework for rural broadband in place and get the right state employees up to speed before requesting the cash needed to fund the programs.
Another bill is in the works for the next legislative session to fund the program, Doss said.
A state-level grant program is good news for Steve Fortmann, owner and operator of Paladin Wireless in Royston. Fortmann has been setting up small-scale, wireless broadband systems throughout North Georgia since relocating from metro Atlanta to the rural community in far North Georgia and being shocked by poor service, which was interrupting his ability to do business and his children's opportunity to be educated.
Fortmann has been frustrated by the FCC'c Connect America Fund program, a multibillion-dollar grant program intended to expand rural broadband, because he's watched the money get absorbed by large companies that he argues aren't holding up their end of the deal.
"There is literally internet in space. How come they can't get internet a mile down a dirt road in a rural setting?" Fortmann said. "It's not because they can't — it's because they won't."
Pai himself acknowledged former grant programs haven't had enough accountability built into the agreements and that the next round of funding, which is coming available in July, requires companies to report their progress to the FCC on a quarterly basis.
And now, Pai said the new round of funding will be open to new types of businesses providing internet service, including small operators like Paladin.
"This is going to be tremendously different," Pai said. "We wanted to make sure we brought in as many competitors as possible using any technology. We didn't want to simply go with whatever incumbent had gotten the funding in the past. We've encouraged electric cooperatives, cable companies, satellite companies, wireless companies and others to take a look at this option."
After the discussion, Pai talked with The Times about net neutrality, including whether he's seen any abuses on the part of the private sector since the regulations were rolled back, and other rural broadband issues.
Asked whether there's any evidence yet of throttling internet speeds to punish competition or other retaliatory behavior on the part of internet service providers — as was warned about in the furor last year when the net neutrality regulations were rolled back — Pai said there has been none. Here's his answer in full:
"We didn't see a broken internet in 2015, when these regulations were imposed, and going forward we've instituted strong consumer protections both through the FCC's transparency rule, which will require every single internet service provider to disclose various business practices, and at the Federal Trade Commission, which is empowered to take action against any unfair or deceptive trade practice," Pai told The Times. "The chairman over there, Chairman Joe Simons, recently testified alongside me in the Senate. He said explicitly: We'll take a look at any anti-competitive behavior we see in the marketplace and make sure we have competition and consumer protection.
"Going forward, consumers are going to be protected and we're going to have a free and open internet and we'll see better, faster, cheaper internet access as companies pour much more scarce capital into building these networks across the country, especially in rural areas like Gainesville."
With Congress weighing whether to bring net neutrality regulations back through law, rather than FCC-created regulations, Pai said lawmakers should take action to ensure an open internet rather than layering on more rules.
"Ultimately, the private industry and consumers writ large would benefit from certainty here. All of us agree on the importance of a free and open internet. Nobody wants to see blocking or throttling or other kinds of anti-competitive behavior," Pai said. "It would be great if Congress could speak, ideally in a bipartisan way, to enmesh those principles in legislation so it's not this back-and-forth about the issue. Let's put those core principles on open internet into the law and then let's focus on something where there is actually a yawning need, which is getting more internet access and competition out there."
Since becoming chairman in 2017, Pai has traveled to 25 states and two U.S. territories for meetings like the one held in Dahlonega.
"The No. 1 thing I hear from consumers about their internet is not that their provider is blocking access to lawful traffic, it's that they don't have access at all or there's no competition," Pai said.