Dawsonville Dance Academy held a grand reopening event on Saturday, July 25, celebrating the studio's relaunch under new owner Ensley Sisk. 
The studio, which has been closed since March due to COVID-19, will be officially restarting classes on Aug. 10. The reopening event on July 25 featured tours of the new studio, opportunities to register for classes, and refreshments courtesy of Chick-fil-a, Dominoes, Walmart Coal Mountain, Home Depot, Ingles, Food Lion and Kroger. 
Sisk, who has been dancing since she was eight years old, will be taking over ownership of Dawsonville Dance from Mary Murdaugh, who opened the studio back in 2010. 
"I grew up here in Dawson County and as I was growing up, there wasn't a stable dance studio because typically any studio that opens goes out of business in three to five years," Murdaugh said. "So when I graduated high school my goal was to have a local studio where the local kids could come, because we had always had to drive like 45 minutes to go to a studio." 
Sisk first started dancing at the studio when she was in middle school, and quickly progressed through the classes offered by Murdaugh. 
"Ensley came about six years ago, jumped in with both feet and was here every day taking all the classes," Murdaugh said. "Then after a couple of years she started my teacher training program, and when she graduated high school she came on full as an independent teacher and has been teaching here for two years."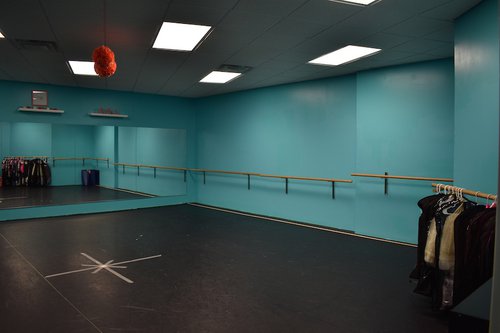 But after having run Dawsonville Dance for 10 years, Murdaugh decided she wanted to move on from the studio so she could put her time and efforts into being a full-time mother for her daughter. 
According to Sisk, when she heard that Murdaugh was selling the studio she knew it was an opportunity she had to take.
"Always in the back of my mind I wanted to teach dance, and I always wanted to open my own studio but I'd always say 'I'll do it later'," Sisk said. "And then when Mary said she was selling the studio I said 'I have to do this; this is a once in a lifetime opportunity'." 
So Sisk, who had just finished cosmetology school, decided to put doing hair on the back burner and go all-in with the dance studio.
"I'm just so proud of Ensley; she's just taken the bull by the horns with this," Murdaugh said. "It was kind of a natural progression because all the students grew up with her and love her, and she's been teaching them for years already." 
Since purchasing the studio, Sisk has put many hours into redoing the space, which features two studio rooms complete with professional floating floors, to truly make it her own. The logo, which featured a dancer modeled after Murdaugh, was redone to feature one modeled after Sisk.
"They've redone the entire space already, so she's making her mark on it," Murdaugh said, "and I couldn't be more thrilled with the fresh energy and perspective that she's bringing."
The revamped studio, which offers ballet, tap, jazz and lyrical dance classes, has brought in a favorable response from the community, according to both Murdaugh and Sisk. 
"I think especially with the current climate, everyone is excited that a small business is going instead of shutting down, so she's got a lot of community support," Murdaugh said. "And I was just really happy that the studio could continue on and remain open."
Sisk will be running the studio with assistance from her mother Janice, which Murdaugh says reminds her of how she began the studio herself. 
"Me and my mom were a team together; my mom did the business and I taught the classes," Murdaugh said. "So with Ensley and her mom it's like literally passing it on to me 10 years ago with me and my mom getting started together. And I'm a mother now too so I'm excited to someday put my daughter in dance and be a dance mom and get to support Ensley."
According to Sisk, her goal is to advance the studio to make it a household name and then to hopefully someday be able to pass it on as Murdaugh has. 
"I hope that we can open multiple locations, because everyone knows Cumming Dance and Sawnee Dance but I really want everyone to know Dawsonville Dance Academy," Sisk said. "I hope to go on with it 10 more years and then hopefully someday pass it on to another mother-daughter team and keep the legacy going." 
For more information on Dawsonville Dance or to sign up for classes, visit the studio's website at http://dawsonvilledance.com/.