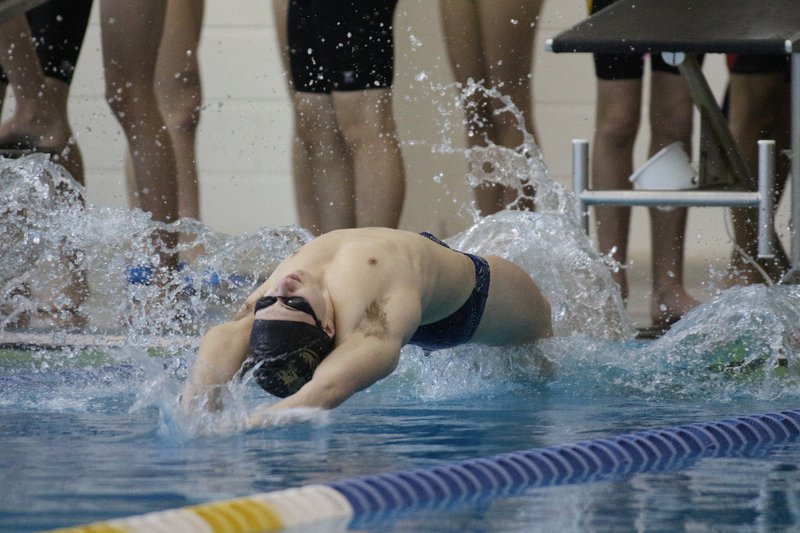 The Dawson County High School swim team recently traveled to Adairsville to compete against five other teams.
During the Jan. 24 meet, Dawson County swam against Adairsville, Woodland, Dalton, Darlington and Heritage high schools and both the boys and girls teams placed third overall. As a team, Dawson County placed third out of six teams.
Nathan Frazier, Garrett Perez, Matthew Wood and Will Mulberry placed fourth in the 200 Yard Medley Relay.  Carter Rexroat, Logan Starr, Matias Lara and Hayden Starr placed fifth.
In the 50 yard free Matthew Wood placed fifth, Nathan Frazier 10th, Will Mulberry 11th, Carter Rexroat 12th, Logan Starr 15th, Garrett Perez 16th, Hayden Starr 19th, and Matias Lara 21st.
Kara Starr placed 10th and Grace Shippey 21st in the 50 yard free.
Matthew Wood placed first in the 100 yard butterfly.
In the 100 yard freestyle Nathan Frazier placed fifth, Logan Starr seventh, Hayden Starr 11th, and Matias Lara 12th.
Kara Starr was sixth and Grace Shippey was 10th in the 100 yard free.
Will Mulberry placed first and Garrett Perez placed second in the 500 yard freestyle.
"They both did really well for it being the first time they swam this event. Will and Garrett both sprinted on the last link.  That's impressive because that was their 20th link," said Coach Linda Sperin.
Frazier, Wood, Mulberry and Perez placed third in the 200 yard Freestyle Relay.  Rexroat, L. Starr, H. Starr and Lara placed fifth.
Rexroat placed fifth in the 100 yard backstroke.  Shippey also placed fifth in the girls 100 backstroke.
K. Starr place fourth in the girls 100 yard breast stroke. It was the first time Starr swam this event.
The team finished their regular season Saturday at the Cumming Aquatic Center. Both the boys and girls competed at the Rockin' Relays hosted by North Forsyth High School.
 "This is a fun meet for the swimmers," said Sperin.  "They got to swim in several relays, especially since we were down to seven swimmers because of sickness.  We were able to finagle our relays to make sure everyone was able to get in a lot of swimming.  This is a good meet to end the season on."
Sperin said it has been a fun group of swimmers this year and she will miss Nathan Frazier, the team's lone senior.
Matthew Wood will be swimming in the 100 yard butterfly at the state meet Feb. 2.