At the Nov. 15 meeting of the Dawsonville City Council, the council and mayor recognized the city's employee of the month and presented service awards to two of the city's longtime employees.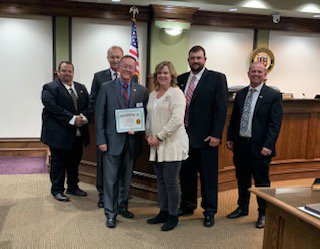 During the meeting, Public Works Director Trampas Hansard was recognized as the October employee of the month. According to City Manager Bob Bolz, Hansard was honored as the employee of the month for many reasons, but especially because of all his hard work in helping make the annual Mountain Moonshine Festival happen. 
"October is consumed with the Moonshine Festival; you all were involved a great deal but you still don't see how much goes into preparation, operation and follow-up," Bolz said during the meeting. "There's a lot of people that could be recognized for it, but one person in particular stood out; he deals with it, start to finish, and that's Mr. Trampas Hansard." 
Hansard was presented with a certificate honoring his achievement. 
The council and mayor also recognized two city employees for their longtime service to the city. They recognized Accounts Payable and Event Coordinator Sara Beacham for her 13 years with the city and City Manager Bob Bolz for his five years with the city. 
Both Beacham and Bolz were presented with November service awards and recognized for their years of dedication and their continued commitment to make the city a better place.