During the Jan. 12 meeting of the Dawsonville City Council, the mayor and council members recognized several city employees, including the members of the city's department for their hard work making sure city residents' water and other utilities remained working during the cold snap over the holidays.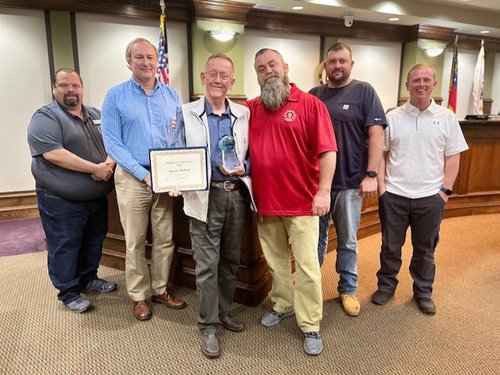 According to City Manager Bob Bolz, during the extremely cold weather in December the members of the city's utility department put in dozens of extra hours, including extra hours on Christmas, to ensure that the city's residents were taken care of. 
"During the sub-freezing weather they were out Christmas night until about 11:00; they put in 87 hours beyond normal hours just during that freezing, horrendous weather," Bolz said. "And to add to that they're short one position right now, so they normally have five and they did all that with just four people which is incredible." 
Each month the city's employees vote to choose an employee of the month, and while the winner is usually a single employee the utility department was recognized for the December employee of the month.
"We are proud to recognize an entire unit; we don't usually do that but these people went above and beyond during the sub-freezing weather and that's the utility department," Bolz said. "We got some outstanding employees." 
The city's employee of the quarter is chosen by the staff from the three employees of the month for that quarter, and the utility department was also named as the employee of the quarter for the fourth quarter of 2022. 
In addition to recognizing the utility department, the mayor and council members also recognized Public Works Operations Foreman Steven McNeal as the city's employee of the year for 2022. 
"As part of our annual program we choose an employee of the year and they're chosen by vote of the staff from each employee of the quarter during that year," Bolz said. "This year's winner is Mr. Steven McNeal, the foreman in the Public Works department." 
The mayor and council members also recognized Customer Service/Admin Assistant Beth Tuttle with a service award for her two years of service with the city. 
All of the employees recognized during the meeting were presented with certificates honoring their accomplishments.