This past weekend, Dawson County Coroner Ted Bearden won the 2022 Coroner of the Year Award from the Georgia Coroners Association, an honor that he says is a testament of not just his own work but of the work and support of his friends, family and staff. 
Bearden received the award during the association's annual conference last weekend. In order to win the honor, a coroner has to first be nominated for the award and then selected by a committee that makes the final judgment on who receives it. 
According to Bearden, who won the same award another time several years ago, this time was especially special because his whole family was present for the announcement. 
"You don't think you're ever going to get it twice, so when they awarded it to me this year it was just very humbling and very emotional," Bearden said. "I have received this award before but this one was special and one of the things that made it special was that they snuck all my family in without my knowledge so they were all there." 
Bearden has been with the coroner's office for over 30 years, and he and his family run Bearden Funeral Home in Dawson County. As the Dawson County Coroner, Bearden said that he's made it his mission to not just do his best for his county but also to be an advocate for other coroners in the state.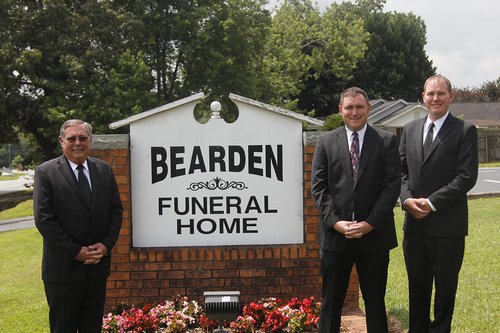 In doing so, he has worked with other coroners and state legislators for the past several years to help bring attention to several issues including coroners' salaries, which have not been addressed by the legislature in 31 years, and to help pave the way for those who will take up the mantle of coroner after he and others currently serving have stepped down. 
"Most of the coroners in this state have held their offices for many years, but they're coming to an end, and unless we correct the wrong that is out there you're not going to be able to find good people willing to hold the job," Bearden said. "The coroner's office is a service-based office; it's a very valuable service to the community and I'm just trying to make sure that in the future there is a system in place where you're going to have good people willing to hold that position." 
Bearden said that, while holding the office of coroner is sometimes a difficult job, he's incredibly grateful to work with a great staff of qualified individuals who help make it easier. He and his deputy coroners, one of whom is his son Wesley Bearden, hold a combined total of 90 years of experience in the field, a number unequaled by any other coroner's office in the state. 
"One thing that has helped me to be able to do the things I do is because I'm just surrounded by good people, wonderful people, and I could not do the job that I do without them," Bearden said. "I could not do what I do without the support of the staff here, nor could I do what I do without the support that I have been given throughout the years from the county commission." 
Bearden is also incredibly grateful for the never-ending support of his family, he said. 
"Without the support of my family there's no way I could do what I do," Bearden said. 
In addition to winning the Coroner of the Year Award once before, Bearden has also received the Distinguished Service Award from the Georgia Coroners Association two times in the past. He said that he is humbled and honored to have been selected as the 2022 Coroner of the Year again this year. 
"It's humbling to know that your peers and the other coroners across the state have a respect and appreciation for the work that you do," Bearden said. "It was humbling; that's the only way I know to describe it." 
He added that, while his name may be on the award, he couldn't have won it without his family and staff, and that in the end his goal isn't to win awards but to do his job to the best of his ability and to help people in the community. 
"I don't do what I do for awards and accolades; while they're special and it's nice to receive them they don't mean as much to me as just being here to help others," Bearden said. "It's not the Ted Bearden show — it's not a one-man show, it is a team effort and that team consists of family and staff — and without that it just would not happen."