Brittany Reeves had always been creative and always loved art. 
When the COVID-19 pandemic hit, she needed an outlet to help herself stay busy, and she turned to art to do just that. 
Now, the Dawson County mom of two owns and operates a thriving company, Beeloved Art, specializing in hand-drawn portraits and specially designed ornaments.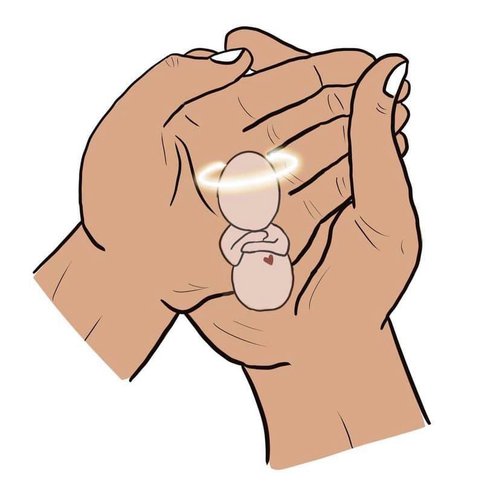 Reeves said she started out her art career with opening a children's art studio in Forsyth County several years ago. 
"I started up a children's art studio in Cumming in 2015 and we were open for a year; it was super fun and so great but after 6 years of infertility I finally got pregnant and got to have my baby boys so I wound up closing," Reeves said. "So I had kind of gotten away from art for a little bit — it's not easy to paint and make time for yourself when you're caring for kiddos — but when COVID happened it was insane and everybody was freaking out and I just needed an escape." 
Reeves began making portraits for her friends, including one portrait for a friend who had suffered a miscarriage. The portrait was of her friend's whole family and included the baby that had been lost, and when Reeves' friend shared the portrait it gained popularity quickly. 
"She shared it and it kind of went crazy, so people started asking me for those," Reeves said. "So I said, 'okay I'm gonna start this business and it's gonna be so great because I'm gonna be able to help people with this, something that I've experienced, and these little portraits offer hope', so that's what started it."
Also in 2020, Reeves said that she became disappointed that local Christmas events and activities were postponed or cancelled due to the pandemic. Just like before, she took to art as an outlet for these feelings. 
"I got annoyed because I couldn't do all of the fun things that I wanted to do at Christmas time in my town, so I said 'if I can't go I'm gonna draw it'," Reeves said. 
According to Reeves, she got the idea of making these drawings into ornament sets from a project that the Forsyth County commissioners introduced back in the 90s to create sets of ornaments highlighting the local community. Reeves' grandmother bought her a full set of the ornaments, and three decades later she still owns them. Inspired by these ornaments, Reeves set out to create her own version in 2020 spotlighting Forsyth County landmarks. 
Reeves posted the ornaments in a local Facebook group, and much to her surprise the post gained popularity immediately. 
"Within 24 hours I had like $6,000 in sales which was crazy," Reeves said. "It was awesome." 
Spurred on by the interest of the community, Reeves set out to create more hometown ornament sets for both Dahlonega and for Dawson County, featuring local landmarks like Amicalola Falls, Burt's Pumpkin Farm and the Pool Room. 
Reeves said that the idea behind the ornaments is to help spark a happy memory for those who own them. Her family is eight generations born and raised in Forsyth County, and she has now lived in Dawson County for several years, so she has her own memories at all of the landmarks she draws. Because of this, she loves to hear the memories that other people have too. 
"I've gotten to talk to so many people who say 'we love the same places that you love' or 'we got engaged here' or 'I take my family here every year', so it's really cool to hear people's connections with it that are just as connected as I am," Reeves said. "It's been so fun and so cool cause all these families connect with it and it's been such a blessing."
To create the ornaments, Reeves uses photos she took herself, oftentimes on her own family adventures, and makes an artistic rendering of the photo in ProCreate on her iPad. She then transfers her drawings to ornaments. 
Since the creation of the ornaments, Reeves has sold dozens of them. She said that, as someone who loves the North Georgia area so much, something like the hometown ornaments are hard not to love. 
"Everyone loves them," Reeves said. "The people here are so awesome, and when you put something that they connect with it's nice, the memories are special and it's nice to be able to offer to them."
Another service Reeves offers through Beeloved Art is the creation of custom portraits or custom ornaments. This can range from pet portraits to wedding portraits, and Reeves designs them based off of photos her clients submit. 
"I take custom orders so that's been one of my favorite things too; people will send me their pictures of their family and I hand-draw everything," Reeves said. "I use the photo as a reference and create based on their photos, and then I can make ornaments with that art too."
One way that Reeves gives back to the community, and a cause that is very close to her heart, is to give away 10 free pregnancy and infant loss memorial portraits each month to families that have lost a baby. 
"I have two angel babies and an angel niece, so I do that in a way to honor my kids," Reeves said. "There's nothing really you can do or say, but giving them that portrait allows them to hold on to something where all of their family is present at the same time, and that can't happen this side of Heaven for them, so it offers some peace and hope with that."
Over the next several months, Reeves will be at several locations in North Georgia with a booth for Beeloved Art. This includes Warbington Farms in Cumming on Oct. 16, the Mountain Moonshine Festival in Dawsonville on Oct. 23 and 24, Fowler Park in Cumming on Oct. 30, Pine and Pigment in Cumming on Nov. 6, SAA Christmas Fest in Cumming on Nov. 20 and 21, and the Jingle Market in Dawsonville on Dec. 4. 
For more information about Beeloved Art, go to https://www.beelovedart.co/. To reach out to Reeves or follow her on social media, go to @beeloved.art on Instagram, facebook.com/beelovedartfb, or email her at brittany@beelovedart.co.