For most of Tara Hardwick's life, she has been secretly searching for someone, and after 44 years, she finally found him.
Growing up in Roswell, Hardwick was used to her family taking in foster children and orphans, especially around the holidays to give them the joy of Christmas with a family. She never spent enough time with them to build a lasting relationship, until Brian entered her life.
In November 1971, Brian, a 6-month-old-baby, was found in a steakhouse parking lot in Buckhead with only a T-shirt and diaper. The Hardwick family quickly took him in as their foster with the understanding that they would officially adopt him.
For four years, Brian was a member of the Hardwick family and everything appeared to be heading toward his official adoption. Then the unthinkable happened.
Hardwick's parents were having marital troubles, something the Division of Family and Children's Services picked up on, which meant Brian would be placed in another home.
"All I know is that my father went inside shortly after Brian departed, packed his bags, and never returned to the family home again," Hardwick said.
At 14, Hardwick found herself coping with the loss of her little brother and kept the pain of the loss to herself, secretly hoping they would be reunited again one day.
Her mother and brother kept their pain inside as well.
"Nobody really ever said anything to each other … we would say sometimes 'Brian would be whatever age now' – there'd be an occasional mention but pretty much each of us just dealt with it individually," Hardwick said. "The loss of him, I really could have seen my life going some other directions and maybe the hope of a reunion with him is what kept me from that."
Over the years, Hardwick remained hopeful and desperately searched for Brian. She wrote letters to put in his DFCS file, praying he would ask for his file. He never did. She contacted the television series Unsolved Mysteries, where staff gave her pages of information to help her find Brian but to no avail. Scouring the internet was never fruitful either.
"While I never gave up hope of finding him I would wonder from time to time if that would happen before I died," Hardwick said.
Throughout the years, she was often reminded of Brian. She'd thumb through the small stash of photos she had taken from the family photo album and reminisce. Every holiday season she would hear a particular song that would immediately flood her brain with memories.
"He loved the song 'Jingle Bell Rock' and he would, as soon as that song came on, start dancing all around the room," Hardwick said. "Every time I have heard that song over the years I think about him dancing around the room and that captured his personality perfectly."
Then in October 2018, as Hardwick boarded a plane back to Atlanta, her mother called. Having no time to talk, Hardwick let the call go to voicemail and told herself she'd call her mother back once she landed.
"How's the timing of all this that I would be sitting on this plane and have to turn my phone off when I get this text from my brother, you know, 'Okay, what about Brian? What's the plan?'" Hardwick said.
She knew her brother, Lynn, meant "the" Brian but she was initially skeptical, after all what were the chances that her technology-challenged mother would be the one to finally find him?
"It's going to be a dead end, especially with her limited computer skills," Hardwick said. "He told me 'no, it's a picture of us pulling him in the wagon and it says 'Lynn and Tara pulling me in the wagon.' And then I said 'I think this is for real.'"
Hardwick immediately went to the Facebook page, and sure enough, she saw an old family photograph and knew her long search was finally over.
Her long lost little brother was now Brian Abbott, a 48-year-old ICU director living south of Macon with his wife Anita and three beautiful children.
"I have made a lot of plane rides as a flight attendant that I wanted to end for a variety of reasons but that was probably the longest two hours of my life," Hardwick said.
She reached out to Brian and said she would call him as soon as she landed. She made good on her promise and called him as soon as she hit the airport parking lot, and the siblings talked until Hardwick returned to Dawsonville an hour and a half later.
"It was so strange because I just, in my mind, he was still this 4-year-old  and yet I was talking to this grown man with a deep Southern accent," Hardwick said. "It was just surreal. It still is."
Abbott had only begun his search for his family two years ago, when his wife encouraged him to create a Facebook profile with the old photographs he had and his birth name.
"I really didn't know that I had family and my wife had continually told me that there were people looking for me. There were family that loved me and were looking for me," Abbott said. "After you have been through certain things in your life you're just okay with the way things are. I was okay with it and I never expected it but it's beyond expectations to see that certain folks had looked for you for 44 years."
At first, Abbott wasn't sure how to feel after so many years to suddenly be reunited with a family he only had a few memories and photographs of.
"It's kind of hard to put down in words," Abbott said. "I wasn't exactly sure how to feel at the time but I guess overall I felt relieved and finally had a little bit of closure in the matter. I finally found my roots."
One week after their initial phone conversation, the Hardwicks met with Abbott in Roswell, seeing him for the first time in 44 years.
"As much as it's a gift to me to find him, it's really the best gift I can give my mother," Hardwick said.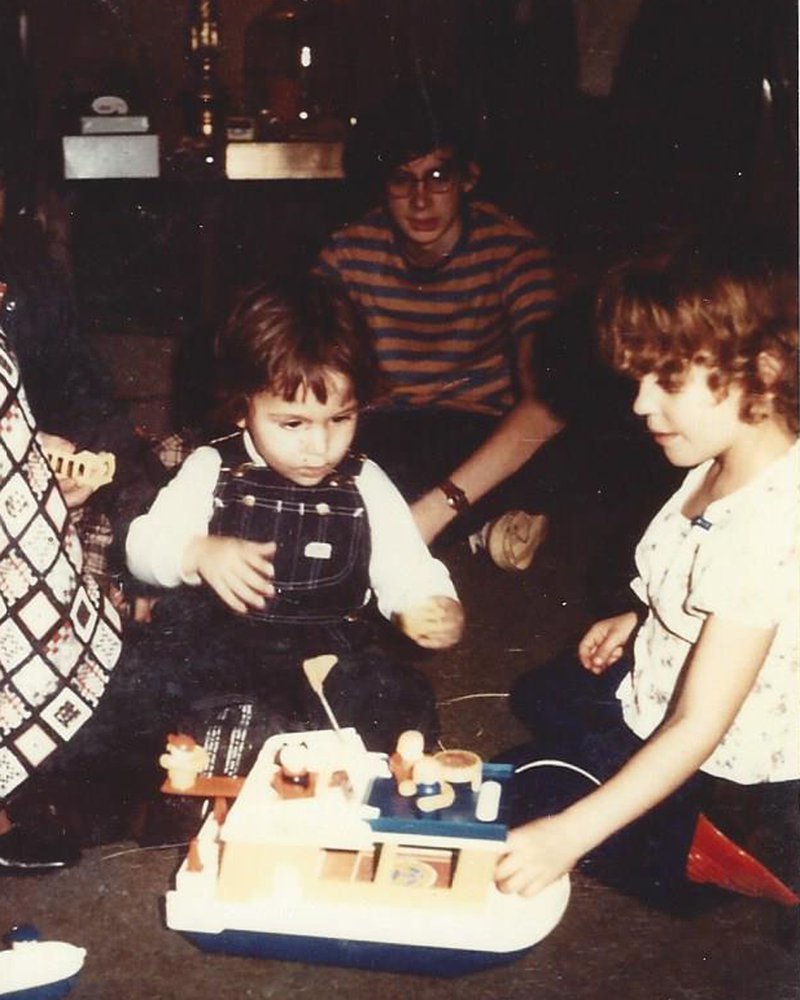 Since their initial reunion in October, the siblings have stayed close by talking every week.
"I try to stop and make time to talk to them. 40 plus years is a lot of years to not have seen them so I at least want to stop and acknowledge them on the time I've got left to be with them," Abbott said.
The Abbotts and the Hardwicks even celebrated Thanksgiving together.
"This family is just so accepting and so loving. We came in on their holiday celebration and they had taken us in like they had known all of us all of our lives," Abbott said. "They're really good folks."
Being reunited with his foster siblings has also led Abbott to more discoveries about his past, including finding his birth mother and birth siblings, who he plans to go meet in the near future.
"The chances that we were only a three hour drive apart is just a sign it was meant to be, really," Hardwick said. "People say 'What do you want for Christmas?' I say 'I already got it. I don't want anything. I really got the best gift I could get.'"
Now that the siblings have reunited, they enjoy sharing their memories and retelling stories from their early childhood. After a long search full of dead ends, hope won out in the end.
"I couldn't have written a really happier ending which is really a beginning to the whole story," Hardwick said. "How can you pick up 44 years later with someone and it's not awkward and the love is still there and bring your current lives together 44 years later? I never imagined my life seeming like a Hallmark movie, but that's what I'm living."