Tucked away on Sundown Way, a magical little Christmas dwelling has taken shape in the basement of Joyce Caine's home.
Every year since 1982, Joyce has brought the spirit of Christmas to life with her growing Christmas village display.
"I started when we were going to the Presbyterian Church with the Ladies Club," said Caine. "I found this one piece and that's kind of what got me started."
The piece was a little pink market, standing only a few inches tall, that she found in Waccamaw, S.C. 35 years ago. It began a now cherished family tradition.
"I'd be out somewhere and traveling or something and I'd see a piece and I'd pick it up," she said.
While some pieces in her display are store bought, Caine has painted a majority of the models by hand.
"I want it to be as realistic as if you were going to a little Christmas town," said Caine. "I love Hallmark Christmas movies…I want that kind of magic. [The Christmas village] kind of created that for the little ones."
Caine said she began building her Christmas village when her daughter, Heather, was 2 years old. It was her way to bring the magic of Christmas into her home for her daughter.
"It just kind of grew and grew and grew some more," Caine said, laughing.  
She isn't quite sure how many models she has accumulated since 1982.
Every year Caine adds more pieces to her collection, which is displayed annually for her friends and family. It's something all who know Caine look forward to, but the display is mainly for two special children.
"I mainly put it up just for them two," said Caine as she pointed to her grandchildren, Lilah Hill, 3, and Kasen Hill, 8. "They're just such a gift and they're such wonderful children."
Creating the Christmas village every year has always held special memories for Caine and her family.
Thinking about one particular model in mind, Joyce teared up. On the top corner, looking down over the entire Christmas village, is Santa's Castle, which Joyce painted in 1985.
"When [my daughter] was 5 years old, I got it and she watched me paint it and she picked out the colors for the castle," Joyce said with tears in her eyes.
"I did?" asked her daughter, Heather, who too was tearing up. Her mother nodded her head.
"That's got a lot of memory because at 5 (years old) you really start realizing Christmas and the magic," said Caine.
Caine said that when she would pick up Heather from school, they would go home and work on Santa's Castle together.
"We would do the Christmas stories and she loved to read. She would read and I would paint. She'd make the stories up as she went – just magical times and special times," Caine said.
This year, the display was featured in the Caine family Christmas card for the first time, which Caine said was truly special. 
She explained that they are a blended family so getting everyone together for a holiday family portrait can be difficult. It meant so much to her to commemorate her entire family, another memory she'll cherish as she watches her grandchildren play with the figures and train in her village.

Kasen and Lilah love their grandmother's Christmas village. It's something Kasen in particular looks forward to every year.
"He asked me 'When are you going to put that train thing up again' in July," Caine said.
As her village continues to grow, neighbors and friends have suggested leaving the display up all year and just covering it in the off season, but carefully boxing the tiny homes, shops and figurines is part of the experience for Caine.
"I love taking it down and putting it back up," she said.
Every year the village changes as Caine adds and rearranges her pieces. This year she added a bridge, cider mill and large waterfall made of lights.
Heather and Caine's step-daughter Tiffany said that each year there is more "stuff," and that the village is never quite the same when they see it the next Christmas.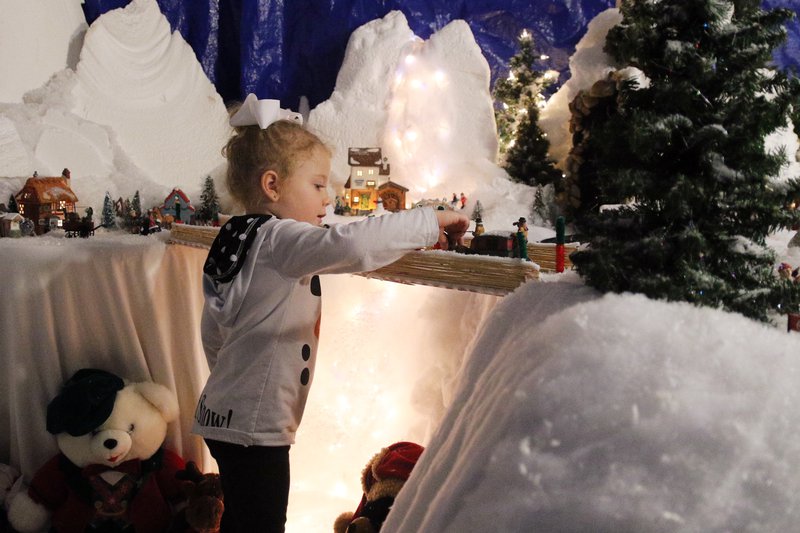 Caine said she would love for her grandkids to help her pick out models and paint colors as they get older, carrying on the family tradition.
"That would be amazing if they did. I think [Lilah's] still too young to really get into it but [Kasen] – he looks so forward to it," Caine said.
Caine said that looking back on the magic she has created over the years has just been wonderful.
"It's been a great life and the things and the love that I've been surrounded with - I'm just so blessed and so undeserving of all the love that I've received throughout my life."