The Dawson County track team celebrated their senior night on Tuesday with a first-place finish for the Tigers and a second-place finish for the Lady Tigers against teams from Lumpkin and Fannin counties. 
Six Dawson County track team members will graduate from the program at the end of the year, including runners Wiley Dennis, Luke Hamby, Sam Hulsey, Cameron Tomlinson, Emily Robinson, and team manager Madalyn Hardegree.
Hulsey performed well on senior night, winning the 1600 meter (4:44) and the 3200 meter (9:59) individually, also taking part in the win by the 4x800 meter relay team. Hamby and Dennis were also a part of the relay team. 
Hamby finished directly behind Hulsey in second place during the 1600 meter (4:51) and the 3200 meter (10:10). Dennis finished tied for second in the high jump with Tomlinson at 5 feet 2 inches. Dennis also finished second in the 400 meter (55.09) behind the fourth member of the 4x800 relay team, Ethan Smith. 
Smith won the 400 meter (52.15) and the 800 meter (2:04). Ryan McGinnis finished behind Smith in the 800 meter (2:25) for second place.
Emma Pelfrey and Emily Kurtz both tied the school record in pole vaulting that they both hold at 8 feet. Pelfrey also tied Jasmine Thompson in first place on high jump at 4 feet 6 inches. Kurtz ran the 100 meter (13.51), finishing in second place.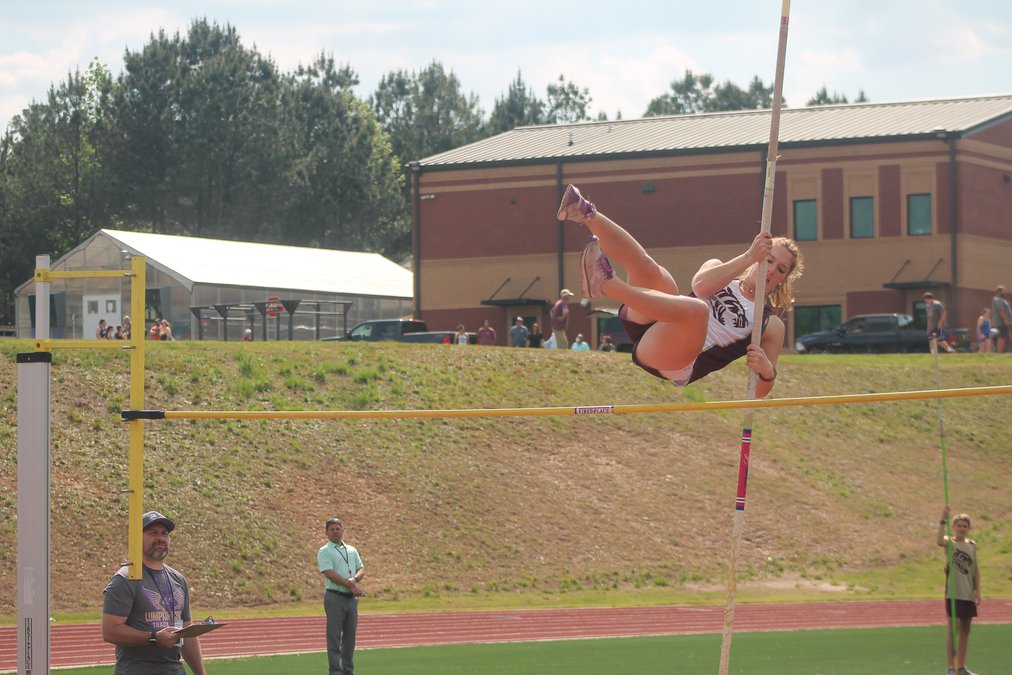 Anna LeCave won the 800 meter (2:46) and the 1600 meter (6:11) and Izzy Knight finished third in both events. Katie Gloeckner won the 400 meter (1:04) with Lauren Kurtz finishing behind her in second (1:07). Kurtz also finished second in the 200 meter (29.84). 
Olivia Martinez placed in three separate events on Tuesday, taking second in the discus throw (70 feet), third in shot put (23 feet 2 ½ inches) and third in 100 hurdles (21.24). 
Jocelyn Thompson finished third in long jump (14 feet 7 ½ inches) and third in triple jump (29 feet 11 ¼ inches). Thomas Cameron finished third in triple jump (34 feet 2 ½ inches) and third in 300 hurdles (49.31). Chandler Bagley ran the 100 meter and the 200 meter, finishing second in the 200 (24.37) and third in the 100 (11.85).
Lumpkin County took 90 points during the girls match, while Dawson scored 64 and Fannin took third, scoring 20. The boys team, which scored 66 points, scored eight points more than Lumpkin County and 14 more points than Fannin County. 
The Tigers have their final track meet of the regular season on Thursday, April 22, at White County High School before competing in the region tournament on Thursday, April 29.