At the Nov. 2 meeting of the Dawson County Board of Education, board members heard a presentation recognizing some of Dawson County High School's student workers who have helped the system and gained work experience by job shadowing in the different schools' kitchens. 
According to School Nutrition Director Scott Richardson, the idea for high school student workers to help in the different school kitchens first arose when several of the kitchens found themselves short-staffed due to the COVID-19 pandemic. 
"We all know that covid was really rough, and real rough on the nutrition department; it led to a lot of holes with folks being out and folks not being able to come in and work their shifts, so a lot of stress on the staff," Richardson said. "Robinson and the Junior High in the months of late August and early September were down by two and three people and we couldn't find subs."
Richardson, who is a former Career, Technical and Agricultural Education (CTAE) director, knew about building partnerships and working with different departments, so he went to talk with Terry Haymond, whose culinary arts students were already working inside of the high school kitchen and were successfully learning skills while helping staff there. 
"I talked to Terry and said could we do this on a wider scale with some of our schools that have really been hit with outages," Richardson said. "So Terry and I put our heads together, we talked to Mrs. Negley and Mrs. Smith, and we were able to put together a schedule and transportation to get some of our student culinary workers into the cafeterias to work for about an hour and a half during the lunch rush." 
Richardson said having the culinary students helping in the cafeterias as Robinson and the junior high school helped out the schools greatly by helping to fill in some of the spots that had been left empty due to staff being out of work. 
"It was amazing," Richardson said. "They really caught on, they caught up, they got us caught up and it really alleviated some of that stress that some of the workers were feeling because of being so short handed. Since the beginning of this year our numbers have gone up so much as far as feeding students that the work has been beneficial and made sure that we continue with not having issues with backups or slowdowns." 
Richardson also talked to Todd Langley with the school system's Community Based Instruction (CBI) program, and with the help from several of the CBI students they were able to expand the kitchen help to five schools: Robinson, Kilough, Black's Mill, the junior high and the high school. Richardson said having the students help in the kitchens is not only a huge help to the schools, but that it is also a very valuable learning experience for the students themselves. 
"We talk about college career readiness, we talk about that high wage, high earner position, and this is what you're doing here: you're shaping the future of our workforce because we're giving that workforce development experience now within our kitchen," Richardson said. "Food nutrition right now is a huge area for our students to employ within."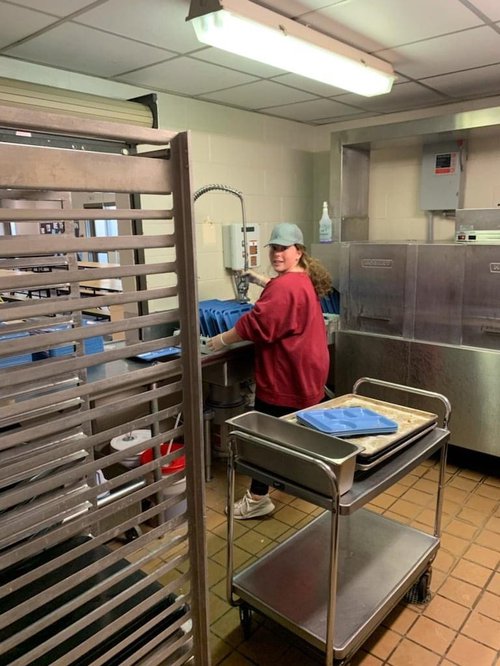 "The best part of all is we're not having to call subs in, and we're giving student workers the ability to learn on the job real world skills and job force development skills." 
Haymond spoke at the meeting too, expressing how much his students have gained out of the program and thanking school administration and the transportation department for their help in making it possible. 
"Transportation has been remarkable; they've worked it out so that the bus drivers take them and drop them off," Haymond said. "The kids have really enjoyed going over there; it's been a really good partnership." 
Dawson County Superintendent Gibbs praised the school administrators on their work in developing the kitchen help program, commenting that in the future the idea may have the potential to become a paid internship for the students.
"I really don't see a reason why we couldn't expand what we're doing into more of a work-based learning for our kids and get them to actually do some paid internships in the school district," Gibbs said. 
There have been talkings surrounding the same idea and the teachers involved would love to continue the discussion about how to make the program a paid internship in the future, according to Richardson.