Down a gravel road off of Highway 9 is one of Dawson County's outdoor attractions: Etowah Valley Sporting Clays. 
Set back from the road in a natural wooded landscape, the sprawling shotgun shooting course offers skeet, five-stand and trap shooting for all skill levels. 
Richard Becker and his wife Joyce opened the clay shooting range back in 2004. Together with their two sons Phillip and Alex, the family now runs one of the most popular clay shooting ranges in the area. 
The family originally started game bird hunting 22 years ago, according to Phillip Becker, but they shifted to sporting clays and started their facility 16 years ago, and have been going strong ever since. 
According to Richard Becker, the instruction offered at the course is important because many people who come to the range don't know everything about how to shoot. 
"A lot of people didn't know how to shoot correctly, or their gun etiquette wasn't good," Richard said, "so we started teaching people how to hunt."
Phillip and his brother Alex are both instructors at the facility, and love showing guests how to clay or skeet shoot.
The facility has different courses to accommodate all skill levels, and offers instruction for those wanting to learn more. The courses range in difficulty, from the green course for beginner-level shooters to the white course for tournament-level shooters. 
The sporting clays range is also has a very active youth shooting program, with several young shooters on their competitive shooting team receiving full scholarships to the University of Alabama for clay shooting.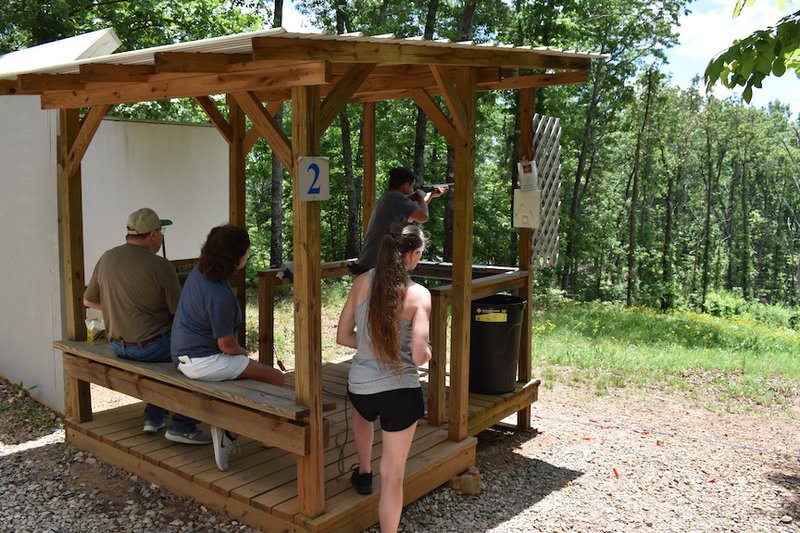 The Beckers say they love being in Dawson County for many reasons, including its location and residents. 
"We love being here because we're close to Atlanta, but not too close, and we're right up 400 so we're easy to access," Phillip said. "The weather is generally good, the mountain views are pretty and the folks here are nice."
Moving forward, the hope for the range is to reopen their event venue and pavilion which have been operating under limitations due to the COVID-19 pandemic. The owners also hope to continue expanding their courses within the range. 
According to Richard, the facility is a fun getaway for anyone to come and blow off some steam.
"It's a good way to get out any frustrations," Richard said. "And it's fun entertainment for anyone — families, businesses, parties, or weddings."