On Friday May 27, state and local officials and community members gathered at Amicalola Falls State Park to officially break ground on the new visitors center.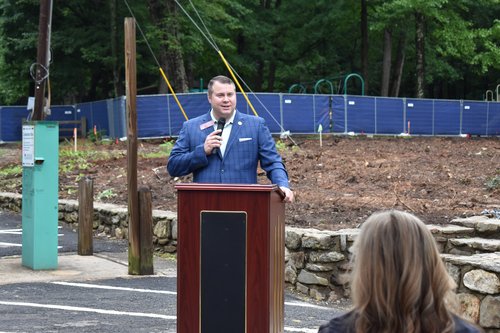 During the groundbreaking ceremony, several state and local officials spoke and then donned hard hats and picked up shovels to officially break ground on the long-awaited project. 
In his welcome and introduction, Department of Natural Resources (DNR) Deputy Commissioner Walter Rabon explained that the park, which has been around since 1940 and is one of Georgia's most popular state parks, attracts up to millions of visitors each year with its amenities and through its connection to the Appalachian Trail. 
It does serve as the main southern access point to the 2100 mile Appalachian Trail; the Appalachian Trail stretches from Georgia to Maine and is heavily trafficked with an estimated 3 million visitors per year," Rabon said. "The park also offers a variety of other activities including camping, cottages, ziplines, a 57 room lodge, restaurant and conference center, and a 729 foot waterfall."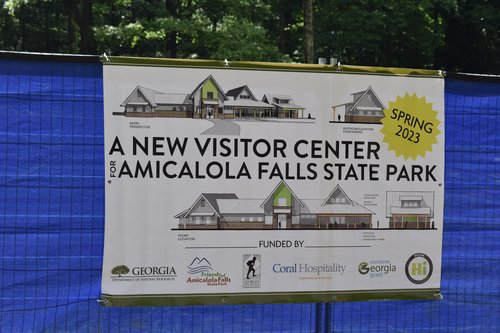 Because of the number of visitors that come to the park each year, he said that the new visitors center is a much-needed and long-awaited improvement on the old one. 
"The new visitors center will feature improved retail space, historic exhibits, a multi-purpose meeting room and the ability to serve as an instant command center in emergency situations," Rabon said. 
During his speech, Senator Steve Gooch said that projects like the new visitors center are very necessary to keep improving upon and preserving state parks like Amicalola. 
"This is a jewel of a facility; it's a state park that you all own as tax payers and we are just here to preserve it for the future generations; there's so many people that have come and gone before us and have made this possible," Gooch said. "We as citizens and as legislators have a responsibility to try to preserve it, maintain it and let others enjoy it in the future." 
Gooch was instrumental in the project as the senate sponsor of the legislation that created the Georgia Outdoor Stewardship Act, an act that preserves funding for projects like the visitors center. 
"The Georgia Outdoor Stewardship Act will continue to provide a dedicated stream of revenue for big projects, not only in state parks but all over our state and cities and counties," Gooch said.  "When the department asked me to carry that legislation I was honored to do so because it truly shows where your value and where your tax dollars are going. We have a beautiful facility here, and this is gonna be exciting to see this come to fruition." 
Both State Representative Will Wade and Dawson County District 1 Commissioner Sharon Fausett also spoke during the ceremony, recounting their lives growing up in Dawson County and all the memories that they had each made with their families at Amicalola Falls State Park. 
"My mom was a naturalist here in the late 80s and early 90s, so I literally grew up here for a decade of my childhood," Wade said, recounting memories of spending summers at the park and conditioning for basketball season by running to the top of the falls and back. "I think [the new center] is a great addition and it gives folks a lot of things to do and have a lot of fun, and it's just an amazing testament to the next century of what can be experienced out here." 
Wade added that he remembers hearing murmurs about the old visitors center being outdated even back then, so he's proud to have played a part in bringing the new center to fruition. 
"This is a great project; I can remember even as a young child some of the mumblings of folks about 'man this building is old' and 'this is kind of outdated' and 'it's expensive to replace these light bulbs'," Wade said, "so I know that bringing this building into the 21st century is gonna be well received by not only this community but those hundreds of thousands, if not millions, of folks that come through those gates or walk through these woods to come and experience what I believe is truly a jewel of the south." 
Fausett also recounted memories of living her whole life just down the road from Amicalola and bringing her son to the park to play every day after school. She said that, while it may be a bittersweet moment to see the old visitors center no longer standing where it always has, the new center will be a great addition to the park. 
"I'm just gonna declare this one of the greatest days we've had in this county," Fausett said emphatically during her speech. "Part of it for me is bittersweet because I've been here all my life just down the road, but the visitors center has done its dues and I know this is going to be absolutely great when it is finished." 
She added that, as a county commissioner, much of her thought process when it comes to budgeting and planning how to spend money has to do with asking herself how necessary a project is.
"We get in budget time and of course we think about budgets all the time, and what I try to do is I try to say 'is this a want or is this a need' and this was really both but it was a tremendous need because it has been here for so long," Fausett said. "This is certainly a jewel and I'm so proud that it's in Dawson County and it's in District 1; I just want to thank everybody that had a part in making this come to fruition." 
Before breaking ground on the project, James Hamilton from the North Georgia Mountains Authority thanked every group and individual who helped bring the project about, emphasizing that it couldn't have happened without those partnerships. 
"In all the years that I've been in DNR I find that the best project and the best park operations are those that are based on really strong partnerships and positive relationships, and this project couldn't have happened any other way," Hamilton said. 
The new Amicalola Falls State Park visitors center is currently scheduled to be completed in spring of 2023.